The new Time Sharing display [above] provides an eye-catching way to present nearly any type of product. The Floor Standing model is shown below.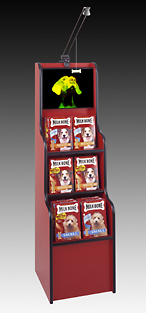 Business applications which can benefit from Rayvel's holographic expertise:
Displays
Developing and maintaining brand awareness becomes increasingly challenging with the evolution of our commercialized society. Holographic point of purchase displays, signage, and premiums make effective, eye-catching attractions. These can be used for in-store merchandising and in exhibits for trade-show booths, museums, and in other public spaces.
[Click to view available holographic stock images]

We have introduced our

PLasH POP™

line of custom point of purchase displays. This includes a floor standing model and two counter top versions.The two counter top designs have a lamp flush mounted in the base that reflects the light off a mirror above the hologram, making the light source inconspicuous to the viewer. The first is called the

Time Sharing

display (shown). The hologram oscillates between being opaque to transparent allowing products, text, or other elements to disappear then re-appear behind it. The other version is the

Always On, without the oscillating effect, where the product sits in front of the hologram.


We are also proud to offer the PortHOL (shown below): a marine life hologram mounted in a 14" diameter porthole-style frame. This unique wall hanging makes an intriguing display for nautical restaurants and cafes, or as a billboard-type advertising element promoting aquariums and seaports.
| | |
| --- | --- |
| | |
| | |
| --- | --- |
| Multi-point vibration damping, electro-mechanical automation, and precision optical design are all incorporated in the new žcameraÓ to produce MVH (Moving Video Holograms).› This system can record several seconds of full motion holographic images.› Different clips can be layered on a single film sheet, producing a dramatic collage.› MVH will be the basis for a new series of point-of-purchase, trade show, and museum displays. | |
Packaging
Holographic elements are now utilized in packaging of products such as sporting goods, champagne, and candy to help them stand out on retailers' shelves.

Printing
Holography has been increasingly used for brochures and magazines. The holographic Elvis issue of TV Guide was the best selling edition in the magazine's history.

Security
Holograms cannot be reproduced except from their original master, making counterfeiting nearly impossible. Many manufacturers use embossed holographic seals to identify authenticity.